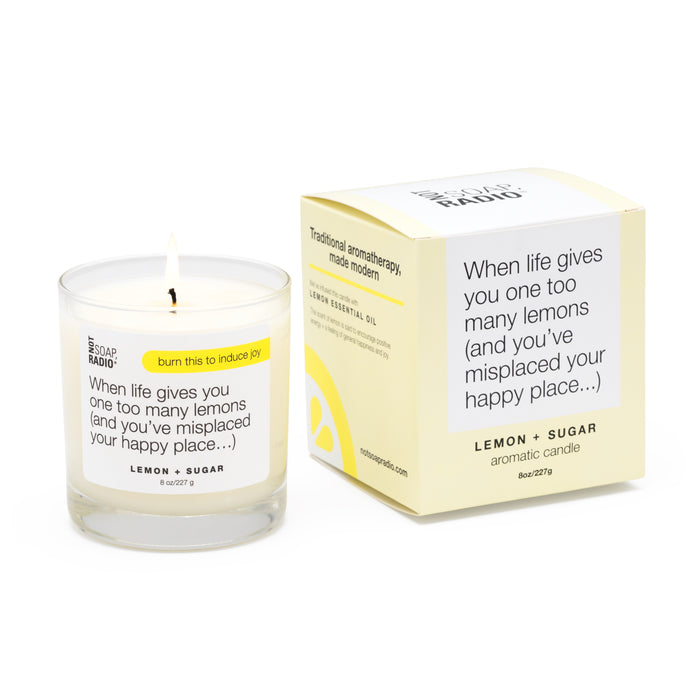 When Life Gives You One Too Many Lemons | Lemon Sugar Scented Aromatherapy Candle 8oz | Funny Gift Candle With Box, 40-50 Hours Burn Time
Original price
$0.00
-
Original price
$0.00
Yes, it's finally here -- our beloved lemon sugar fragrance- now with fire power. 
If life has not been two kinds of ice creams, rainbows, unicorns, etc... And if your cloud 9 has turned into a cloud burst and not even a locksmith can help you find your key to happiness, here's help.
Burn this to induce joy - and illuminate your life , literally and figuratively.
Why this works:
We've infused this formula with: lemon essential oil; the scent of lemon is said to encourage positive energy + and a feeling of general happiness and joy.
40-50 hour burn time.
Hand poured. Made in LA. Coconut soy blend.
Non-toxic, paraffin-free and cruelty-free; vegan.
How to keep the candle happy:
First- trim wick to before burning to allow for a clean burn. Trim as you burn, keep it this length to reduce smoke and maximize burn time.
Then- allow the candle to burn for a few hours the first time you light it, making sure the wax reaches the edges of the candle jar. This will create a large enough melt pool area and ensures that your candle burns evenly for the life of the candle.
Do not burn for more than 3 hours at a time.
Never leave the candle unattended or within reach of plants, curtains, drafts, pets or small children. 
Key Product Features:
FRESH LEMON SCENT: features the bright sweet citrus scent of lemons + sugar; Infused with lemon essential oil for natural aromatherapy fragrance
NATURAL COCONUT SOY BLEND: Hand poured, Non-toxic, paraffin-free and cruelty-free, vegan.
LONG LASTING BURN TIME: 8oz jar, burns for 40-50 hours, single wick
FUNNY GIFT: This funny and unique candle comes in a cute box, making it the perfect gift for best friends, teachers, women and more