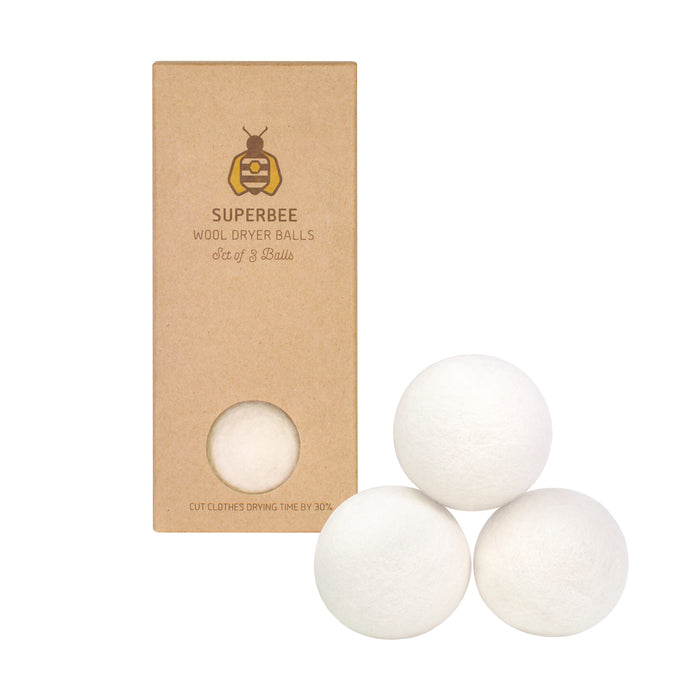 SuperBee Wool Dryer Balls, Box of 3 Reusable Unbleached Laundry Balls
Original price
$0.00
-
Original price
$0.00
About our reusable wool dryer balls
Clothes dryers are known for devouring electricity and can  2,400 pounds to your carbon footprint per year (the equivalent of a flight from London to New York!). But the quicker clothes dry, the lower your impact. SuperBee wool dryer balls reduce drying time by up to 30% by allowing hot air to circulate between your clothes as they spin. They're a fantastic natural fabric softener, increasing the softness of fabrics without any of harmful stuff found in traditional laundry products.
If you prefer your clean clothes to have a fragrance, simply apply a few drops of your favorite essential oil directly to the wool balls and set them aside for a couple of hours. Come the next wash, they will infuse your clothes with a subtle, chemical-free fragrance. Please note that essential oils may discolor the surface of the balls but this will not impact their performance.
SuperBee laundry balls are breaks down naturally and home naturally prevents germs, making them an awesome earth-friendly purchase.
Use with our all-natural fabric detergent alternative, Hexawash, for zero waste laundry each and every load.
Made from
100% unbleached New Zealand sheeps wool
Drawstring bag made from 100% GOTS organic cotton (repurposed cutoffs from our wax wraps)
Key Product Features
100% organic
100% biodegradable and home compostable
Plastic and silicone free