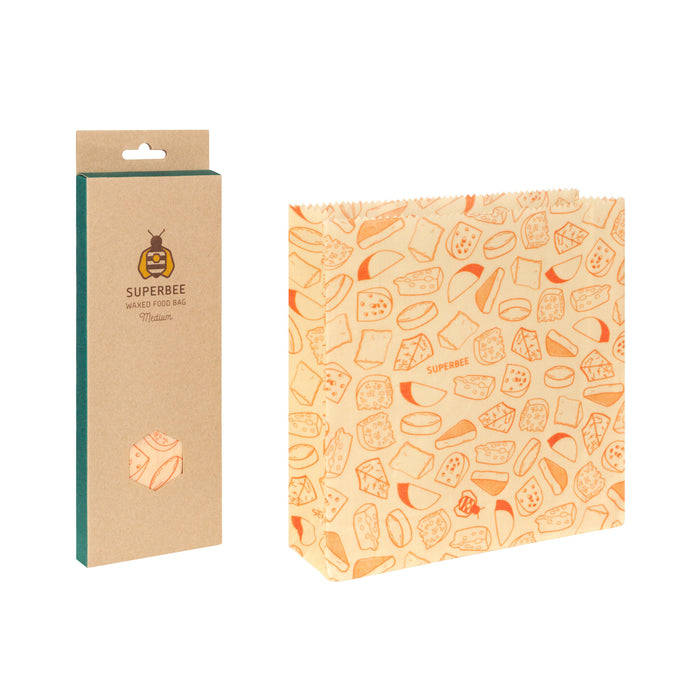 SuperBee Waxed Food Bag Single, Medium Reusable Waxed Food Storage Bag, Cheese Design
Original price
$0.00
-
Original price
$0.00
Turn your lunchtime plastic free with our colorful Beeswax food bags. Made from 100% organic waxed cotton, and hand stitched to be durable, pliable and easy-to-clean, these waxed cotton bags are the ideal size for sandwiches, lunch or some tasty afternoon treats.
Their bright designs are guaranteed to make them a hit with your kids and your colleagues and theyre a washable, reusable and long-lasting alternative to plastic bags; they should be usable for up to two years if looked after properly. But thats not all: theyre antibacterial, high quality and certified food safe, too.
Working in much the same way as plastic wraps or containers do to protect food, these waxed bags will keep your snacks, sandwiches, salads or whatever else you want to store fresher for longer.
Made from
100% GOTS-certified organic cotton
Sustainably harvested and pesticide-free beeswax
Tree resin
Organic coconut oil
Key Product Features
100% organic
Certified food safe and easy to wash
Antibacterial and antimicrobial
100% biodegradable and home compostable
Plastic and silicone free