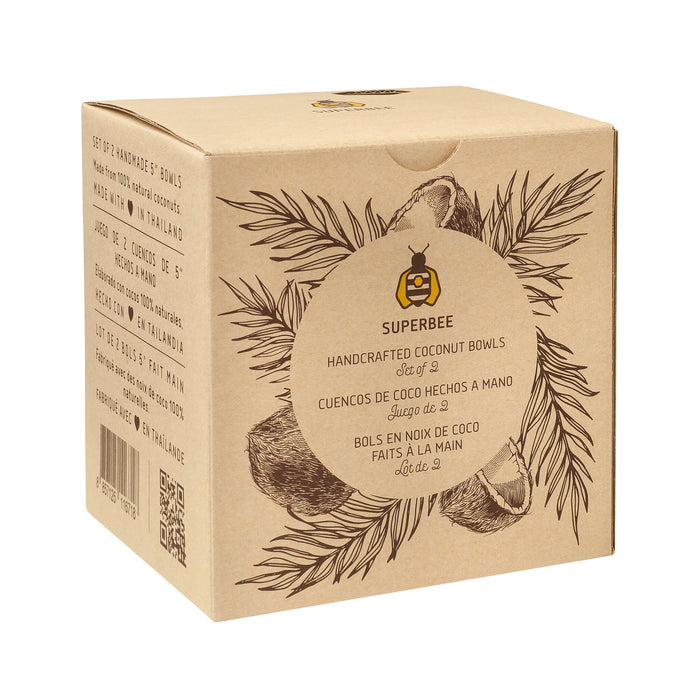 SuperBee Coconut Bowls x 2 - Natural and Food Safe
Original price
$0.00
-
Original price
$0.00
Unique, beautiful, and functional these are the defining qualities that make Handcrafted Coconut Bowls a natural standout. A quality product by SuperBee, this exceptional food-safe tableware gives a distinctively tropical touch to your dining experience.
Earth-Friendly, Sustainable, and Ethical
At Superbee, we uphold sustainability and ethical manufacturing. In creating our very own handcrafted coconut bowls, we source discarded coconut shells locally literally turning waste products into something reusable for many years to come.
Uniquely Created
Every zero-waste coconut bowl is handmade by local Thai artisans. Using ethically sourced coconuts from Thailand, they have succeeded in highlighting the natural design and beauty of each shell.
Extraordinary Bowls for Various Purposes
Use these 5 inch in diameter natural bowls for holding any type of food, hot or cold. These functional conversation pieces can be used as a unique home decor, too. Use them for holding various items and display them in places where they're sure to grab attention.
Easy 3-Step Cleaning
1. Wash these coconut bowls by hand using mild soap.
2. Make your unique bowls even more vibrant by wiping them with coconut or vegetable oil.
3. Dont forget to air-dry or towel-dry before storing it with other tableware.
Bowl your guests over by serving food in these Handcrafted Coconut Bowls. Place your orders today!
Key Product Features
Earth-Friendly
Sustainable
and Ethical
Uniquely Created
Extraordinary Bowls for Various Purposes