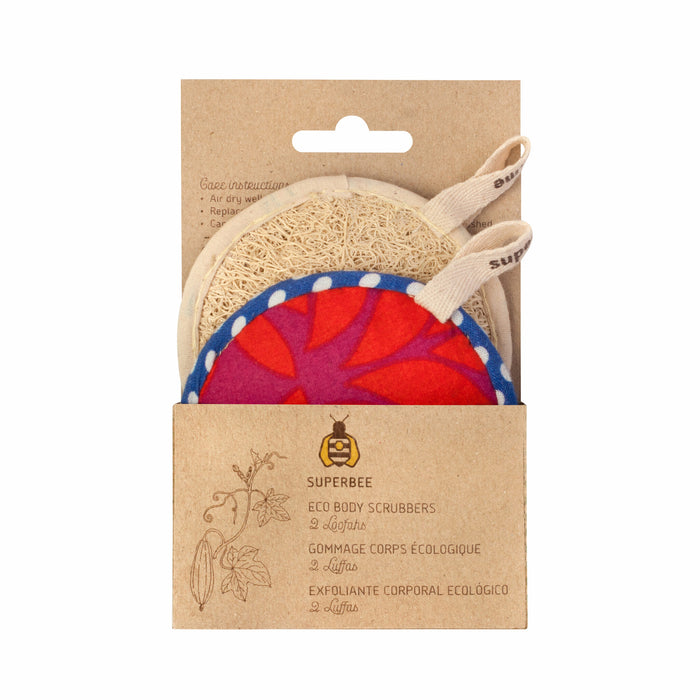 SuperBee Eco Shower Loofah Body Scrubbers, Set of 2 Natural Body Scrubber
Original price
$0.00
-
Original price
$0.00
All about our natural body scrubber
Whether youre transforming your home into a zero-waste haven or looking for a non-toxic, plastic-free beauty routine, our shower and bathing loofah body scrubbers will replace plastic loofahs and shower sponges with this all-natural scrubber, which removes dead skin cells and exfoliates the skin in the shower.
Just combine with your favorite eco-friendly soap and this body scrubber will keep your skin very soft and clean. After use, leave it to dry, cleaning them with bleach or a vinegar solution (or boil wash).
Not only will this sustainable scrubber leave your skin soft and clean, its also fully biodegradable. After three to four months of use, itll be ready to go back into the ground: just pop it into your composting bin and watch nature work her magic.
Our sets of 2 or 5 Shower & Bathing Loofah Body Scrubbers are made from natural Thai loofah and GOTS certified organic cotton leftover from our wax wrap production.
Moreover, theyre hand-made in collaboration with the One Sky Foundation, an NGO supporting Burmese refugees along the Thai-Myanmar border, so your purchase makes an impact reaching far beyond your bathroom.
The loofah might have found fame in the bathroom, but its sponge-like texture and coarse surface make it the perfect kitchen companion, too. Have also a look on our Kitchen Loofah.
Made from
100% natural loofah
Back of loofah made from 100% organic cotton
Key Product Features
Pack contains two loofahs measuring 9cm in diameter each
100% natural and chemical-free
100% vegan and cruelty free
BPA-free