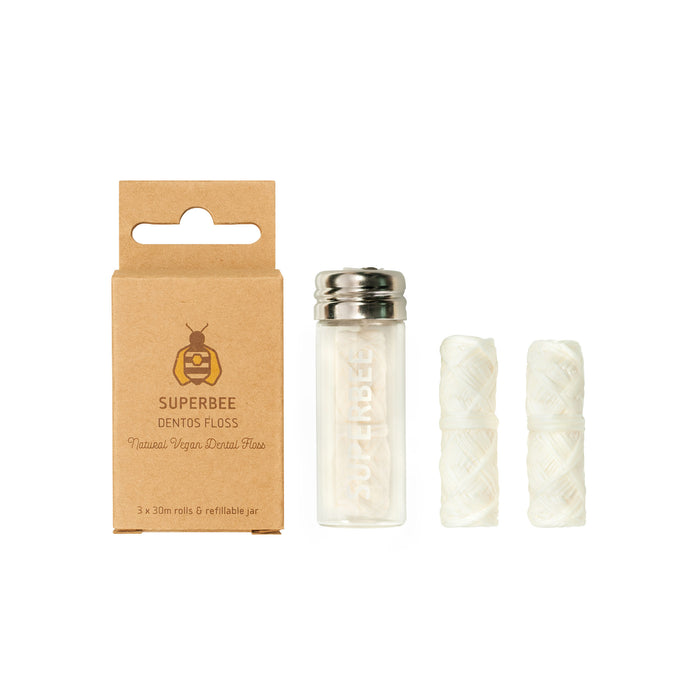 SuperBee Dentos Floss, Pack of 3 Biodegradable and Vegan Peppermint Corn Fiber Floss
Original price
$0.00
-
Original price
$0.00
All about our environmentally-safe dental floss
Ditch unsustainable nylon dental floss that can end up in landfill or the oceans for an earth-friendly alternative. Made from 100% natural corn fiber, our sustainable and environmentally-friendly floss is a win for the natural planet leaving you something rather big to smile about.
Flavored with cool peppermint essential oils, this floss is gentle and kind to even the most sensitive gums, with a thin layer of natural bamboo wax included to make it smooth and soft on your teeth. Whether you're embracing a fully zero-waste life or just starting on the road towards being more environmentally conscious, this floss is an easy step to take.
Pair with our Dentos toothpaste tablets and bamboo toothbrushes for a 100% natural, vegan and planet-friendly approach to your oral hygiene. Each pack contains two extra refills for optimizing your zero waste bathroom and should last around 12 months.
Made from
Our dental floss is made from 100% natural corn fiber, which has been infused with peppermint essential oils and coated with a thin layer of natural bamboo wax
The reusable floss holder is made from food-grade glass with a stainless steel lid
Key Product Features
Pack includes three 30 metres spools of eco dental floss and a refillable glass holder with an easy to rethread lid
100% organic and natural
100% vegan and cruelty free
Fluoride
Sugar and Palm oil free