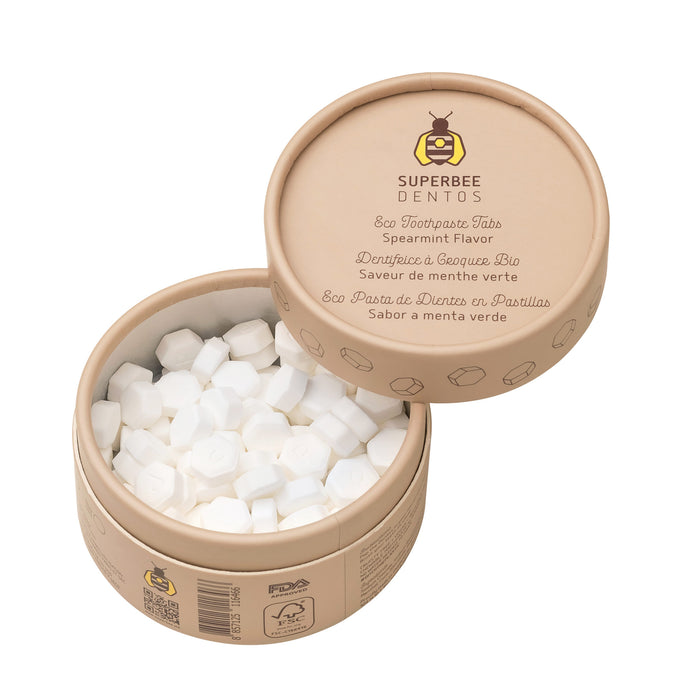 SuperBee Dentos Eco Toothpaste Tabs 150 Tabs, Spearmint Flavoured Dentos Toothpaste Tabs
Original price
$0.00
-
Original price
$0.00
All about our plastic-free Dentos toothpaste tabs
Less abrasive than traditional toothpaste, these chewable toothpaste tabs are the ideal addition to your zero-waste bathroom. Ditch the recyclable plastic toothpaste tubes without compromising on your oral health.
Our Dentos toothpaste tablets can help reduce cavities and leave your teeth feeling minty fresh, clean and healthy. Unlike normal toothpaste, which contains chemicals to help prevent it from drying out, our toothpaste tabs are completely natural and safe for all the family.
Ingredients
Sodium chloride, sodium bicarbonate, Mentha spicata, spearmint oil, menthol, coco-glucoside, magnesium stearate, sorbitol, D-mannitol
How to use the Dentos natural toothpaste tabs
Pop a tab in your mouth and chew until it forms a foaming paste (although it wont foam as much as normal toothpaste this is nothing to worry about!). Brush with a wet toothbrush as per usual.
Key Product Features
100% organic and natural
100% vegan and cruelty free
Talc
Fluoride
Sugar and Palm oil free