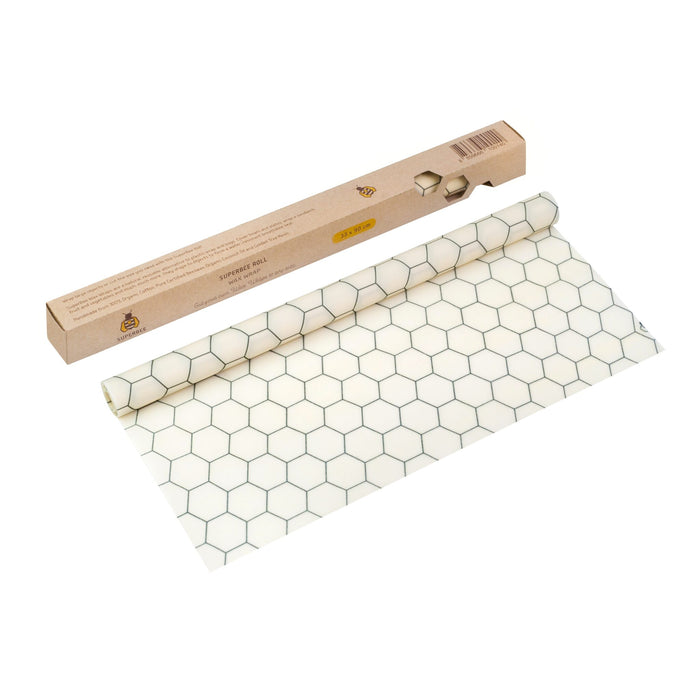 SuperBee Beeswax Wrap Roll - Hexagon (13" x 36")
Original price
$0.00
-
Original price
$0.00
The SuperBee Beeswax Wrap Roll is the most convenient way to get the right size of beeswax wraps in your kitchen. Measuring 33cm x 90cm (13in x 35.5in) you can cut the roll into whatever size you need, or use the whole roll to cover a giant dish.
Made from the same organic cotton and ingredients as our famous Wax Wraps, you'll love the practicality and versatility of this exciting new way to use beeswax wraps.
Cut to size to suit your needs or use the whole roll as a single giant Wrap for big trays and dishes. We recommend using either a craft knife and ruler or a pair of sharp scissors to cut.
SuperBee Wax Wraps are an earth friendly, long-lasting alternative to plastic wrap. They easily cover food and dishes, forming a tight seal to keep your food fresh, clean and safe without any waste.
Our award-winning beeswax wraps are ethically handmade, sustainable, high quality and food safe. Plus, they're hygienic, washable, reusable and breaks down naturally.
Our Wraps are handmade from:
100% Organic GOTS organic cotton
 
Beeswax
 
Tree resin
 
Organic coconut oil
Key Product Features
100% organic
Certified food safe and easy to wash
Antibacterial and antimicrobial
100% biodegradable and home compostable
Plastic and silicone free