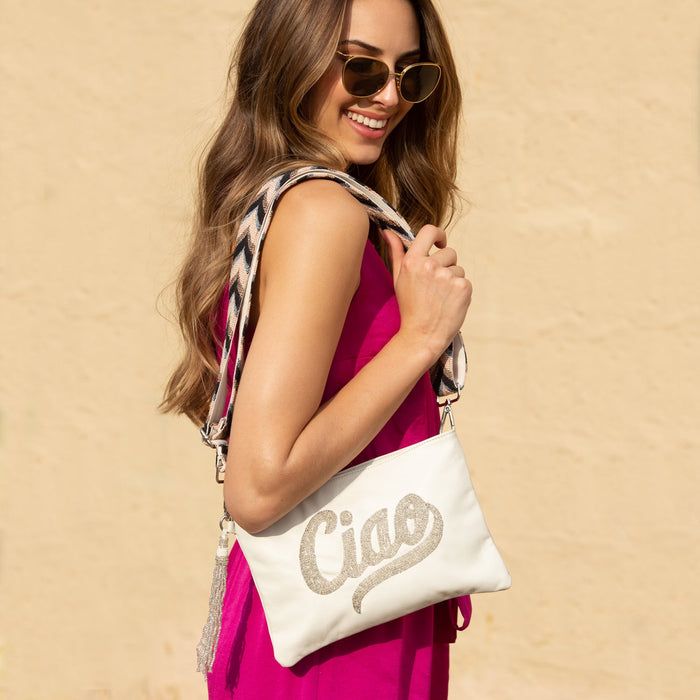 Sidney Byron Leather Bag With "Ciao" Beading, Light Grey
Original price
$0.00
-
Original price
$0.00
Ciao Bella! Tap into the romance of Italy carrying our hand-beaded and elegant Ciao crossbody. Neutral and sophisticated, roam the city hands-free and effortlessly transition to an evening clutch by removing the guitar strap.
Channeling Elegance: Hand-beaded CIAO Crossbody

Greet elegance with a hearty "Buongiorno!" as you carry our hand-beaded CIAO Crossbody, a whisper of romantic allure reminiscent of Italy's charm. A symphony of neutral sophistication, this accessory empowers you to traverse the city with an air of unencumbered freedom. As the day matures into the night, gracefully detach the guitar strap to witness the transformation of this crossbody into an enchanting evening clutch, ushering in a newfound level of sophistication. Let the word "CIAO" reverberate through your style, capturing the essence of a city that's as enchanting as your accessory.
Hand-beaded cursive "Ciao" script on one side of the bag
Bag with tassel also includes a wristlet and adjustable crossbody strap
Top zippered opening with interior pocket
Bag Measures 10.5" long x 7" high
Adjustable crossbody strap is 1.5" wide
Made in India from 100% premium leather 
Key Product Features