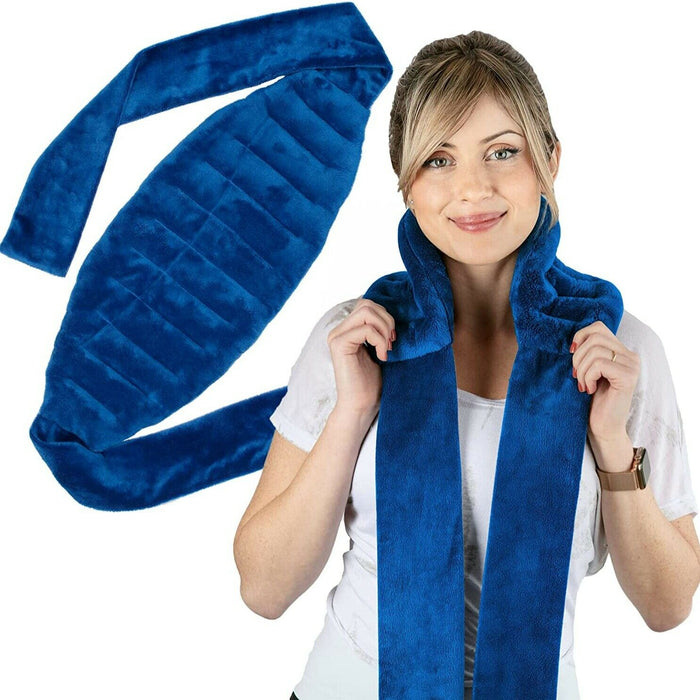 Microwave Heating Pad for Back Pain Relief with 71" Ties/Straps to Secure Anywhere - Moist Heating Pad Microwavable Heat Wrap for Neck & Shoulders, Cramps - Flaxseed Rice Heat Packs Hot Bag - Medium.
Original price
$0.00
-
Original price
$0.00
THE LAST PAIN RELIEF WRAP YOU'LL NEED TO BUY!
Have you found yourself with persistent pain or an injury? Many old heating pads require hands-on to hold into position making it very difficult to multitask and still get the relief you require.
Purple Moon Collection introduces versatility and unique mobility to a classically popular treatment by designing ties to help secure your heating pad anywhere on your body. Larger than other brands, our engineered and patented design contours to your body shape and gives you better coverage across all your pain relief needs.
Did you know that FLAXSEED is proven to hold heat longer?
This is due to the oil content inside each flaxseed. This creates a natural moist heat that penetrates the muscles and joints more efficiently than dry heat packs such as rice bags.
Ingredients
Flax Seeds
Directions
Heat Therapy: Place the wrap on a clean, dry plate in the center of the microwave for 2 minutes and heat on a high setting. For best results, flip the wrap over after 1 minute and continue heating for the remaining 1 minute. Carefully touch the wrap to check the temperature. If not warm enough, heat for a further 30 seconds and recheck. NEVER exceed a total heating time of more than 3 minutes. Cold Therapy: Place the wrap inside a clean plastic bag and place inside the freezer for 4 hours.
Key Product Features
BETTER COVERAGE across all your pain relief needs. 'Longer' ties/straps to secure in place, giving you the freedom to move around with our Microwavable Heating Pads contouring to your body. The ideal Weighted Heating Pad
HOLDS HEAT LONGER - Penetrating the muscles and joints more efficiently with our natural moist heating pad microwavable. Filled with organic 100% Canadian Flaxseed, this non electric wrap is superior to dry heat packs such as rice & bean bags
LARGE 20"x 8" Moist Heat Pack with 71" TIES - Evenly weighted at 2lbs which spreads across 12 flexible chambers allowing comfort and the ability to contour to your body. Ideal as your Lower Back Heating Pad
VERSATILE MICROWAVE HEATING PAD for Neck & Shoulders & Back Pain Relief. Including joints, cramps, menstrual pain, sore muscles, rotator cuff or back injuries, we've got you covered with our portable, reusable, and cordless hot/cold pack.
THE BEST FATHERS DAY GIFTS Deliver Warm Hugs. We're a family owned business that cares about quality & the best outcome to 'Live Your Best Life'. Gift wrapping also available for a thoughtful get-well gift for family or friends.