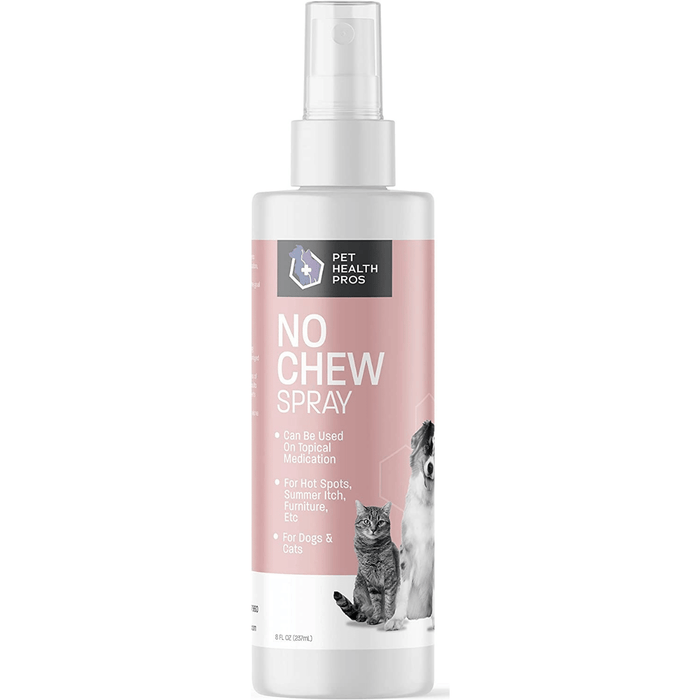 Pet Health Pros Dog Anti-Chewing Spray; Preventive Tool; Bitter Agent; Indoor/Outdoor Use; 8 oz; Clear
Original price
$0.00
-
Original price
$0.00
Is your pet's penchant for chewing becoming a bit overwhelming? Pet Health Pros Dog Anti-Chewing Spray is the perfect, quick solution to this issue. A user-friendly, effective training aid, the spray helps prevent your pets from gnawing at household items, saving them and your sanity!
So, how does it work? Our special formula contains a potent bitter agent - more effective than traditional bitter apple sprays - which discourages pets from chewing on any sprayed surfaces.  Plus, it is not just about the items around your house. The spray can be safely applied to your pet's paws, wounds, and even bandages. Hence, it also helps soothe summer itch and heal sores, thus ensuring all-around care for your pet. 
Crafted in the USA, this 8 oz clear, water-based spray is designed to be both safe and potent. Your pet's health is our utmost concern, which is why we ensured that even if they accidentally chew or lick a sprayed area, they won't be harmed. With Pet Health Pros Dog Anti-Chewing Spray, training your puppies and kittens just got a whole lot easier too.
Key Product Features
Effective Solution for Bad Chewing Habits; vital tool in puppy and kitten training
Infused With Bitter Agent; more potent than conventional apple bitter sprays
Versatile Application; ideal for indoor/outdoor use and suitable for most surfaces
Usable On Pets; can be applied onto hot spots, fur, and bandages with no harm