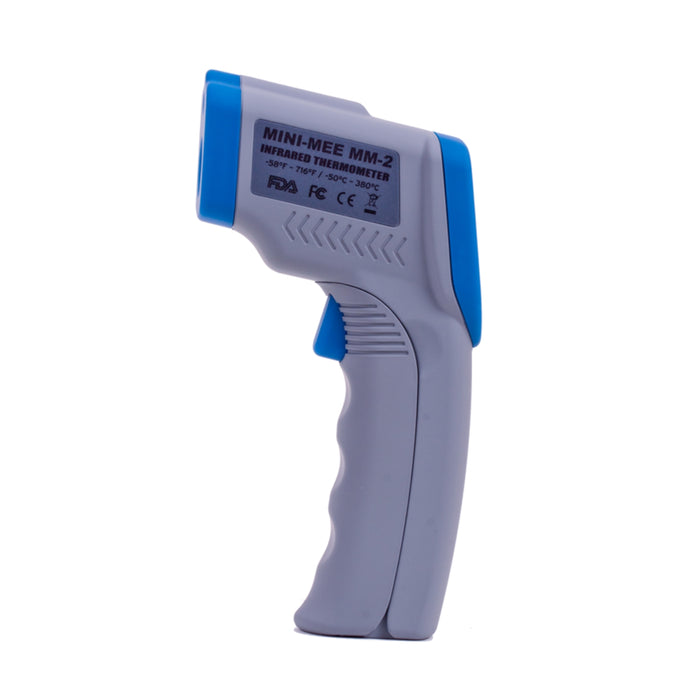 Metris Instruments MM2 Mini Digital Reptile Thermometer, Gauge for Reptiles
Original price
$0.00
-
Original price
$0.00
A thriving terrarium, a reptile tank must be set up with a quality reptile thermometer and humidity gauge. For a terrarium thermometer, go digital, cordless, and compact.
With over 20 years of expertise, Metris Instruments offers a premiere family of food service and industrial-grade TN and EC Series non-contact infrared thermometers. We offer you Metris Instruments MM2 Mini Digital Reptile Thermometer, Gauge for Reptiles, model Mini-MEE MM-2.
Easy-to-use, simply aim, push the button and see the result in less than 0.8 seconds. It's a reliable reptile tank thermometer.
Easy-to-read, it will show readings on a backlit LCD display, select either Fahrenheit or Celsius , low battery symbol, data hold icon and laser. The reading will hold for 15 seconds.
For Sighting and Targeting digital reptile thermometer, it comes with a 9V battery. It's the perfect complement to your reptile temperature controller and hygrometer or reptile humidity gauge.
Multi-use, it's suitable for all kinds of reptile habitat, such as for spiders, scorpions, horned frogs, lizards, chameleons, tortoises, snake in vivariums, hatchers, brooders, and propagators. It's also suitable for laboratory, hospital, warehouse, and air conditioned rooms.
Not a visual distractor.It's digital, cordless and compact. Enjoy the view of your pet on your reptile tank background and reptile habitat setup you worked hard for.
Our digital thermometer for reptile tank is feature-packed:
Accuracy of + 2% error with 1 Dot Red Laser Pointer
Response time in less than 0.8 seconds on backlit? LCD display
Wide Temperature Range: -58F to 716F (""-50C to 380C)
Distance to Target Ratio = 12:1 inch for safe surface temp readings from a minimum distance to a target of 12 inches
Captures Highest Temperature Spot MAX
9V Battery Included
NOT FOR USE ON HUMANS: This is not designed to accurately measure the internal temperature of the human body.
Key Product Features
Easy to use: point and shoot surface of fish tank or terrarium tank
Accurate results: + 2% error with 1 Dot Red Laser Pointer, for your pet's health
Easy to read: backlit LCD display, fast response time of less than 0.8 seconds
Multi-use tank thermometer, suitable for all kinds of reptiles
Not medical grade, not for use on humans