Additional Features: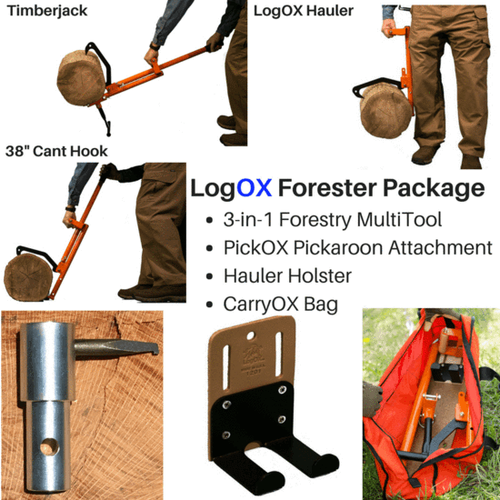 The LogOX 3-in-1 Forestry MultiTool

:

The patented LogOX Hauler, scientifically proven to reduce strain on the body while lifting logs, combined with a 38" cant hook, and timberjack log lifter all in one modular and compact forestry tool.
Hauler Holster

:

Fits on to any standard work belt to provide the user with a convenient place to set the LogOX Hauler in between uses while operating machinery.
PickOX Pickaroon Attachment

:

This addition to the LogOX lineup is small enough to fit in your pocket, but quickly turns your LogOX cant handle extension into a force multiplying pickaroon tool.
CarryOX Bag

:

Fit the LogOX and other gear you need for a day in the woods or at the sawmill into this high quality 18oz canvas carry bag. Has two large internal pockets with 1,260 cubic inches of space, measures 30"L x 6"W x 7.5" H