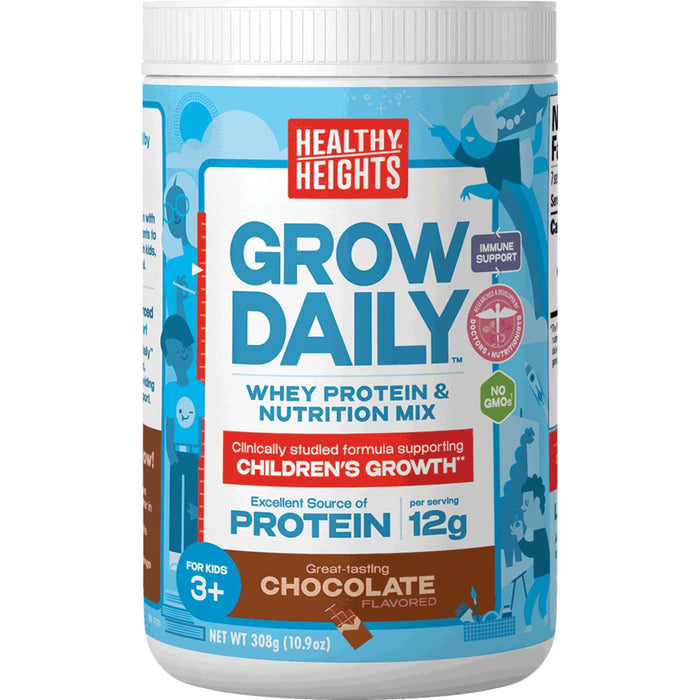 Healthy Heights Grow Daily 3+ Shake Mix Powder, 12g Protein, 10.9oz
Original price
$0.00
-
Original price
$0.00
Healthy Heights' Grow Daily 3+, specially formulated protein powder shakes for children between ages 3 to 9 years old.  In delicious Chocolate, Vanilla and Plain flavors, our unique shake mix formulas contain the right combination of protein, amino acids, vitamins and minerals needed to support healthy growth and physical development in children.   Premium children's nutrition is our mission, developed by pediatricians Healthy Heights Grow Daily 3+ is shown to support optimal growth and designed for the specific nutritional needs of children ages 3-9 years.  Designed for tiny tummies, each delicious 4oz shake is packed with 12 grams of protein, 350 milligrams of arginine, zinc, calcium, iron, and vitamins A, C, D, supporting healthy growth when included as a part of an overall healthy diet.  This product is gluten free, soy free, and rBST free, contains no human growth hormones (HGH), corn syrup, artificial colors, flavors, or preservatives.  Your child will get the nutrition they need, with a taste they'll enjoy.
Designed specifically for children 3+ years and older, specially formulated and shown to support optimal growth.
Great for picky and finicky eaters, active kids, leaner kids needing to gain weight and parents concerned about their child's nutrition and appreciate the benefits of premium nutritional products.
Easily supplement your child's breakfast, lunch, dinner or bedtime snack with a kid-friendly nutritional protein shake or use when baking to give an extra boost of protein, vitamins, and minerals to pancakes, muffins, waffles, doughnuts and cookies. Simply mix with water, milk/milk alternative, shake and drink.  
Directions
Dosage

Using the scoop included in each package, combine 2 scoops of shake mix (44g) with 4oz. of water or low-fat milk and shake thoroughly using a shaker bottle for best results.  The amount of water can be adjusted to achieve desired thickness. Once mixed any left-over shake should be refrigerated and used within 24 hours. Once opened tightly reseal powdered shake mix and store in a cool dry place. 


Ingredients
Whey Protein Concentrate, Maltodextrin, Nonfat Dry Milk, Sunflower Oil (High Oleic Sunflower Oil, Inulin, Sodium Caseinate, Sunflower Lecithin, Silicon Dioxide, Mixed Tocopherols), Organic Cane Sugar, Cocoa Powder, Inulin, Natural Flavors, Calcium Citrate, L-Arginine, Zinc Gluconate, Vitamin C (Ascorbic Acid), Iron Fumarate, Vitamin D3, Vitamin A (Palmitate). 


Allergen Statement
Contains Milk