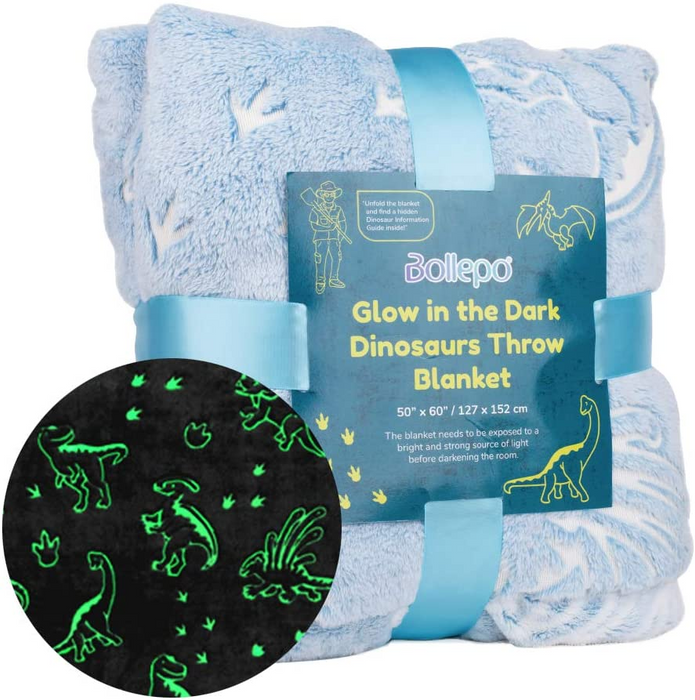 Glow in The Dark Throw Blanket, Dinosaurs Design, Soft Fuzzy Plush Fleece Blanket for Boys, Girls, Teens and Toddlers
Original price
$0.00
-
Original price
$0.00
EDUCATIONAL
The Dinosaur Information Guide is a great tool to teach children about the different dinosaurs featured on the blanket. The blanket can also be used to help them with memory retention by allowing them to identify the dinosaur without the support of a guide.
QUALITY
Dont be fooled by other blankets! Our blanket offers the same soft, smooth, cuddly warmth on both sides of the blanket
SECURITY BLANKET
If you have a little one in your life, you know the importance of a security blanket. Our glow dinosaur blanket provides children security through its warmth, its softness, and its bright glow, alleviating any fears they may have in the dark.
GLOW INSTRUCTIONS
To activate illumination, expose the blanket for 10-15 minutes under natural sunlight or bright lights. Following light exposure, the blanket will glow for at least 6 hours!
WASHING AND CARE INSTRUCTIONS
100% polyester, 300gsm super soft flannel fleece, no fading, no shedding
Machine wash with cold water and tumble dry with low temperature, separately on a gentle cycle. No shedding after machine wash!
Key Product Features
MATERIAL & SIZE – This super soft
dinosaur glow blanket is made from 100% high-quality plush polyester
providing extra soft comfort for the little one in your life. It is 50" X 60"
making it the perfect size for toddlers
children
and adults of all ages. It is also large enough to use for extra warmth at night for a toddler or twin-size bed
or for cuddling alone or with your loved ones.
MULTIPURPOSE – Kids love using this blanket to keep warm and cuddle up with as they watch movies with the family or read their favorite book. It also makes for a great child's security blanket
as the glowing dinosaurs will give them something peaceful to look at in the dark. The super soft material is also great for helping your child relax before a nap or bedtime. This blanket also makes for a beautiful throw blanket to have on or near your sofa for warmth or a cuddle session on the couch!
UNIQUE DESIGN – Here at Bollepo
we take pride in creating one-of-a-kind
unique products specifically for our clients
which is why we had a professional artist hand-draw each of our dinosaurs featured on our blanket. So not only is our blanket extra soft
and warm to cuddle with
but it is an original design made for our wonderful customers. or a cuddle session on the couch!
EDUCATIONAL— Not only is our glow-in-the-dark dino blanket warm and cozy but it's educational
too! Each blanket comes with a dinosaur Information Guide
providing our users with fun facts about each of the dinos featured on our blanket! Use the guide as an educational tool with your children
or grandchildren. It can also be a great learning activity in the classroom. Are you a babysitter looking for ways engage the kids? Use the blanket to interact and keep the children interested and amazed!
READY TO GIFT— Our glow blanket has so many amazing features: from the softness
to the educational component
you'll have a list of special people in your life you'll want to give this to Another amazing feature is that our dinosaur glow blanket also comes with beautiful packaging
ready to give the moment your receive it. This blanket makes for the perfect gift for any person or celebration: birthday; Christmas; reward for earning good grades in school and more!