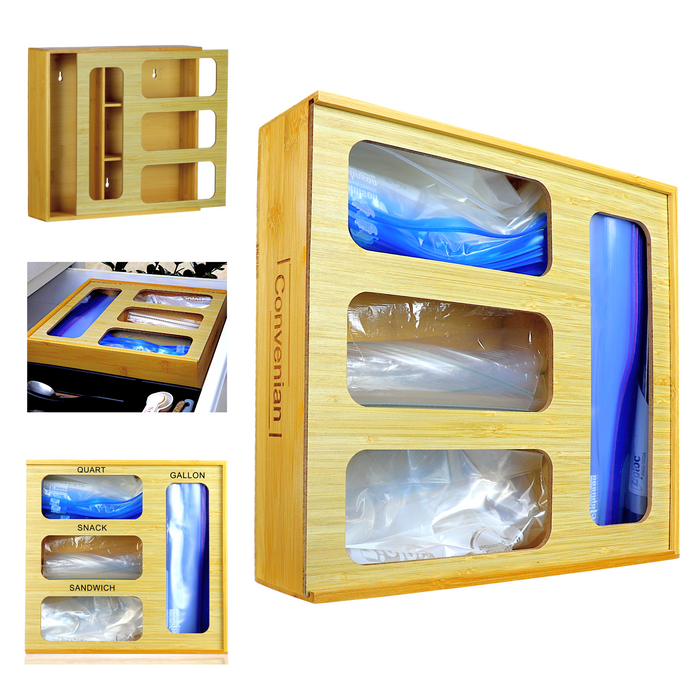 Convenian Ziplock Bag Organizer for Drawer - Plastic Food Bag Storage Organizer Sandwich Bag Organizer for Kitchen, Bamboo Baggie Organizer for Drawer Compatible with Gallon, Quart (1 Box 4 Slots)
Original price
$0.00
-
Original price
$0.00
 Bamboo Bag Organizer and Dispenser for Kitchen Drawer Storage and Organization, Food Storage Bag Holder Compatible with Gallon, Quart, Sandwich, and Snack Variety Size Bag, 1 Box with 4 Slots is our perfect solution for every kitchen in organizing your food bags.
Why choose our product?
Our bag organizer and dispenser have a unique design for food bag organization for every kitchen need. It is made of Bamboo making it environment friendly and easy to clean and assemble. It is a box with 4 slots or compartments having enough space for a variety of sizes of food bags to store for easy sorting. Compatible with most brands available in the market.
It is an essential kitchen accessory for every household. Use it for leftovers, chips, sandwiches, and more. You can place it in the drawers, cabinets, shelves, counter, or wall mounted. Stop worrying about messy plastic food bags in your kitchen. Our Bamboo bag storage box is a product you can truly rely on for kitchen organization and storage.
Product Specification: 12.50 inches x 12 inches x 3 inches
Why Should You Choose Products Made of Bamboo?
1. Since bamboo is a renewable resource, selecting this option is one that is good for the environment.
2. In comparison to maple, bamboo is 16% both harder and more durable.
3. During assembly, we only use an adhesive that does not contain formaldehyde and is suitable for use with food.
4. The color is permanent, will not fade or wash out, and no dyes or stains were utilized in its production.
5. Constructed from excellent, hand-selected bamboo of a variety that neither provides a source of food nor serves as a habitat for the Giant Panda.
Key Product Features
FOOD STORAGE BAG HOLDER - Our zip lock bag organizer has been designed to make your life easier. This ziplock bag storage will hold a whole box of bags and more, and is incredibly easy to refill. You will love the convenience of being able to see when you need more bags, and the extra space in their drawers to keep other essentials.
AESTHETIC & FUNCTIONAL: - Our sleek and modern bag organizer for kitchen plastic bag storage is the perfect addition to any kitchen, transforming your pantry and adding a touch of elegance. It's sturdy and durable, making it a great value for the price, and the high-quality bamboo construction ensures it's built to last.
MATERIAL -Our bamboo bag organizer for drawer is made of renewable natural bamboo which is sturdy and durable. It comes also with labels to keep the clean look of the bamboo storage bag holder.
WIDE COMPATIBILITY: This food storage bag organizer has 4 compartments which is compatible for all types of kitchen plastic storage bags, sandwich and food bag storage. With this innovative ziplock bag storage organizer, you can easily organize all your plastic bags in one accessible place, and wave goodbye to the hassle of misshapen boxes.
REMOVABLE SLIDING LID: Our sandwich bag organizer for drawer comes with removable sliding lid design make it easy to use and no assemble needed.