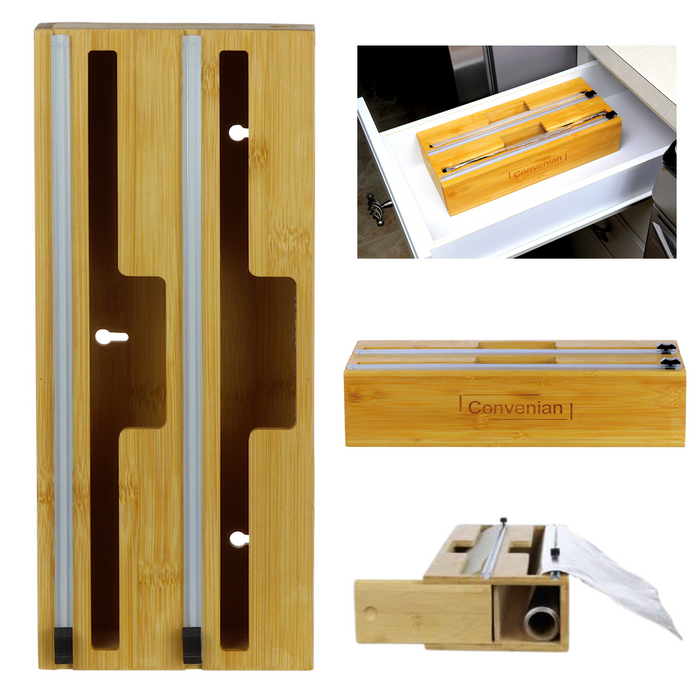 Convenian 2 in 1 Bamboo Foil and Plastic Wrap Organizer, Plastic Wrap Dispenser with Cutter, Compatible with 12" Roll for Plastic Wrap, Wax Paper, and Aluminum Foil Organization and Storage
Original price
$0.00
-
Original price
$0.00
2 in 1 Bamboo foil and plastic wrap dispenser with cutter and labels, aluminum foil storage dispenser, food wrap holder perfect for kitchen drawer which is compatible with 12" roll plastic wrap and wax paper. A perfect solution for every household need for kitchen organization and storage.
Need a kitchen tool that will make your aluminum foil, plastic wrap, parchment paper organizing easy?
This Bamboo wrap dispenser is the answer to every home and kitchen organizing problem that you can utilize in your home. 
With its modern and sleek 2 slot design foil and plastic wrap dispenser, you can easily keep your cabinet and drawers neat.
It is made of Bamboo making it environment friendly and easy to clean and assemble.
Why Should You Choose Products Made of Bamboo?
1. Since bamboo is a renewable resource, selecting this option is one that is good for the environment.
2. In comparison to maple, bamboo is 16% percent both harder and more durable.
3. During assembly, we only use an adhesive that does not contain formaldehyde and is suitable for use with food.
4. The color is permanent, will not fade or wash out, and no dyes or stains were utilized in its production.
5. Constructed from excellent, hand-selected bamboo of a variety that neither provides a source of food nor serves as a habitat for the Giant Panda.
Product Specification: 13.25 inches x 5.75 inches x 3 inches
Key Product Features
Built in Slide Cutter: The slide cutter comes with an adhesive feature that guarantees a straight and clear cut each time. The slide cutter actually grips the wrap to hold it in place. There is no tearing of wraps. Cutting made easy.
Compatible With Most Brands: Compatible with most brands in the market for Plastic Wrap, Aluminum Foil, Parchment Paper, Wax Paper, Reynolds Wrap, Glad Plastic Wrap, Saran Wrap, Cut-Rite Rolls. Wraps longer than 12" or broader than 2.5" are incompatible.
Aesthetic & Functional: Our 2 in 1 Bamboo wrap dispenser is a sleek modern foil dispenser box which is aesthetically unique as well as functional, keeping your kitchen drawer cabinet neat and free of untidy wrap and foil.
Multi-Usage: Plastic wrap dispensers can be used in a multiple kitchen settings, including in the drawer, on the stove, the countertop, and wall mount. A kitchen aid that evey household must have.
Product Specification and Inclusion: You will get this 2 slot food wrap dispenser bamboo box with dimension of 13.25 inches x 5.75 inches x 3 inches suitable for every kitchen drawer.