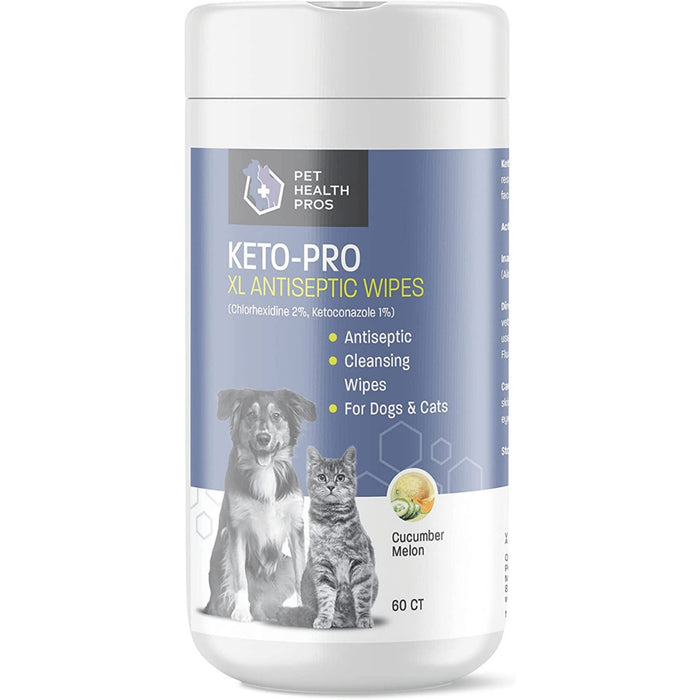 Pet Health Pros Purifying Wipes for Dogs and Cats; Soothing, Medicated, Fresh Scent; XL
Original price
$0.00
-
Original price
$0.00
Introducing our Purifying Medicated Pet Cleaning Wipes, made by Pet Health Pros. Our wipes are specially designed to help your dog or cat deal with various skin issues, providing relief and soothing comfort. The advantage of the wipes is their XL size which makes them perfect for larger affected areas.  These chlorhexidine wipes effectively treat itchy and inflamed skin resulting from allergies, acne, or rashes. 
The potent medicated formula provides an effective solution for problems such as hotspots, and acne. They're simpler to use compared to shampoo or soap, presenting a practical solution between baths. Adding to the charm is a refreshing cucumber melon scent that leaves your pet smelling fresh and clean. 
Containing 60 wipes in a pack, Pet Health Pros Purifying Wipes offer an easy solution for your pet's skin irritations. The best part? These wipes are made in the USA, assuring quality and safety for your pet. Suitable for both dogs and cats, these wipes are all you need to address your pet's skin irritations. 
Key Product Features
Soothing Relief for Itchy Skin; Perfect for Addressing Skin Irritations from Allergies, Acne or Rashes
Powerful Medicated Formula; Designed for Treating Hotspots, Ringworm, and Acne; Easier than Shampoo Use
Refreshing Cucumber Melon Scent; Leaves Your Pet Smelling Clean and Fresh
XL Size Wipes; Ideal for Large Affected Areas Offering Comfort to Your Pet
Also Suitable for Cats; Made in the USA