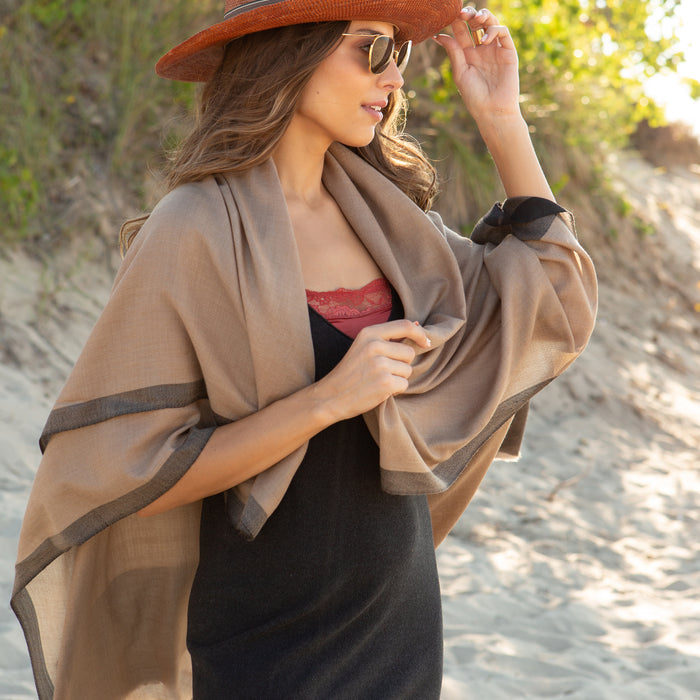 Sidney Byron | Womens Fashion Graphic Stripe Shawl Scarf in Taupe and Black| 100% Wool | 82" x 29.5" Made in India | Breathable Lightweight Soft Wraps
Original price
$0.00
-
Original price
$0.00

Description:
Elevate your wardrobe with the Sidney Byron Graphic Stripe Scarf, a harmonious blend of luxurious materials, thoughtful design, and timeless elegance. Crafted with 100% soft wool, this scarf offers comfort and sophistication, complementing any outfit.
Measuring 82" x 29.5 , the Graphic Stripe scarf is generously sized for versatile styling. Draped or wrapped, it adds refinement to any ensemble, suitable for any occasion. Dress up or enhance your everyday look the Graphic Stripe scarf is your go-to choice.
Made in India, it merges traditional craftsmanship and contemporary style. The scarf reflects the country's textile heritage, showcasing artisan expertise. This elegant Sidney Byron Scarf is perfect for traveling when versatility is needed most.
Designed as a versatile transitional piece, the Graphic Stripe scarf suits all seasons. Its lighter weight ensures comfort in milder weather, while its timeless design suits casual and formal settings. Layer over a blazer or drape over a casual outfit, this scarf adapts with grace.
Incorporate this Sidney Byron scarf for comfort, style, and craftsmanship. Wrap yourself in its soft embrace, enjoying the cotton-silk blend against your skin. Elevate your fashion statement with Sidney Byron's commitment to quality and elegance.
Choose the Sidney Byron Graphic Stripe Scarfwhere versatility, elegance, and craftsmanship unite for an accessory that transcends trends and celebrates individuality.