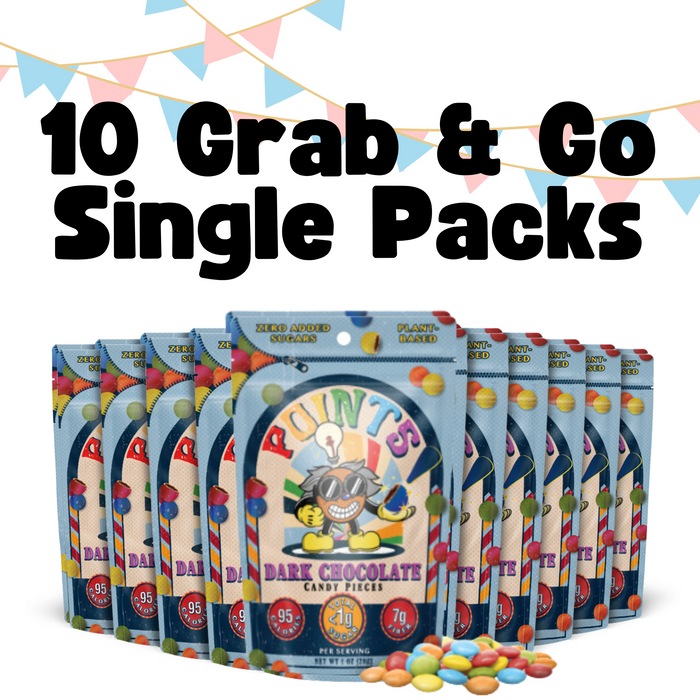 PLANET POINTS! Rainbow Dark Chocolate Candies, Keto-Friendly, Plant-Based, High Fiber, No Added Sugars - Fun & Nostalgic Snacking, Ideal for Recipes
Original price
$0.00
-
Original price
$0.00
Are YOU ready to earn your POINTS!
These Rainbow Chocolate Candies are a Keto-Friendly, Plant-Based, High Fiber alternative to those other candy things you may have grown up loving.(we think they may have started and ended with the letter "M")
Well now you can officially say goodbye to the Added Sugars & Hello to "A New, Nostalgic Snack Universe!" that's led by the POINTS! Cool Crew family:
Ace ~The Hummble & Farm-Raised Inventive Genius

Roxx ~ The Sporty One that Doesn't Fudge Around
Snazzy ~ The Fancy & Schmancy Sweet Snob
La La ~The Happy-Go-Lucky Creative
Giggles ~The Mighty yet MischievousGoofball
1g Natural Sugar ~ Zero Added Sugars
Plant-Based ~ Naturally Colored by plants
Keto-Friendly ~ 1g Net Carbs(17g-6g Fiber-10g Erythritol)
A Super Fun Topping, Snack, and/or tool in your Recipe r epertoire!!!
 
Ingredients: POINTS! Dark Chocolate [Unsweetened Chocolate, Prebiotic Fiber, Erythritol, Cocoa Butter, Sunflower Lecithin, Natural Flavor, Stevia Extract],Erythritol, Soluble Tapioca Fiber. Less Than 2% Of: Gum Acacia, Spirulina Extract, Turmeric Oleoresin, Vegetable Juice [Red Raddish & Beat Juice],Shellac, Carnauba Wax